Aarti Vilas Bargode's story of supporting her parents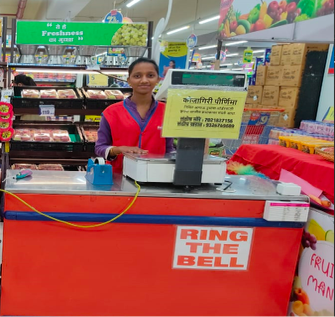 My name is Aarti. I reside in Khar. I secured a job with Reliance Smart store at Santa Cruz after I completed my DEEDS HRH (Hospitality, Retail and Housekeeping) Course. As I was only 10th pass and belonging to a lower income family, I was finding it difficult to get a stable job to contribute to the family income due to my hearing impairment disability . My father, a plumber and also deaf and my mother a house maid, both earn very little to be able to support my sister and me. What we earn is spent on everyday household expenses and little we keep aside as savings.
I came to know about DEEDS through a friend (Sophia's postal). DEEDS trained us about DEEDS HRH (Hospitality, Retail and Housekeeping) Course
DEEDS have a very good teacher who explained to me with sign language which is understandable.
My experience with DEEDS taught me to be responsible, understand my job well and to give my best.
Today, I am happy and satisfied and my salary is quite good. I have moved forward with my career and am also looking forward to a good life partner. I will tell my school friends about DEEDS. I would love to give others a chance to do well in life.
A big Thanks to DEEDS for their guidance and support.